CLOSE TO HOME TOUR SERIES
New Tour!
Saskatchewan Experience
Manitou Springs and Moose Jaw Mineral Spas
DEPARTURE:   Edmonton 7:00 am | Red Deer 9:00 am | Calgary 12:00 pm | Fort Macleod 2:00 pm |  Lethbridge 2:30 pm | Medicine Hat 4:45 pm
A special tour to the two famous mineral spa resorts in the Land of Living Skies – Saskatchewan.  Manitou Springs Resort and Mineral Spa draws the water for its pools from Lake Manitou. Known as the Dead Sea of Canada due to its high levels of salt, the water is so buoyant you cannot sink!  Temple Gardens Hotel and Spa in Moose Jaw taps into mineral spring waters that are heated by geothermal energy from the core of the Earth!  The naturally-occurring Epsom salts and magnesium will draw out aches and pains and soothe your soul. Explore many of the most interesting attractions in Manitou Beach and Moose Jaw, from Danceland to a driving tour of Moose Jaw, the Moose Jaw Tunnels, the Western Development Museum and more, all included as part of your tour.
7 days | Date To Be Announced
Prices to be announced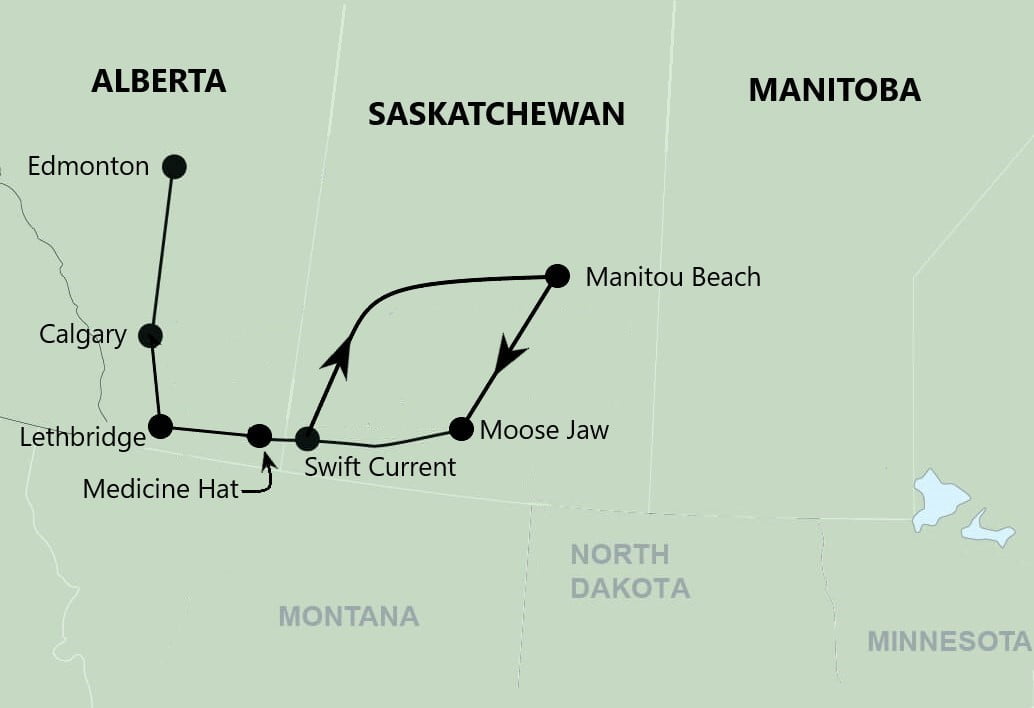 DON'T FORGET YOUR SWIMSUIT! ROBES ARE PROVIDED AT BOTH POOLS.  FOR MORE INFORMATION ON BOOKING SPA SERVICES, INQUIRE AT TIME OF BOOKING.
First class transportation on an air conditioned, washroom-equipped motorcoach
Quality accommodation and tax
Services of an experienced Tour Director and Driver
Baggage handling, one average piece per person
Travel Bag
Admission to attractions and sightseeing as outlined in the itinerary
Welcome Meet and Greet
Danceland
Manitou Springs Indoor Hot Pools
Guided Tour of Moose Jaw
Moose Jaw Outdoor Murals
15 Wing Moose Jaw
Temple Gardens Geothermal Mineral Pool
Historic Tunnels
Western Development Museum
Guided Tour of Medalta Pottery
Meals Include: 5 Breakfasts, 1 Farewell Dinner
2024 Prices to be announced
Cost per person | Prices in Canadian Dollars | Prices subject to change