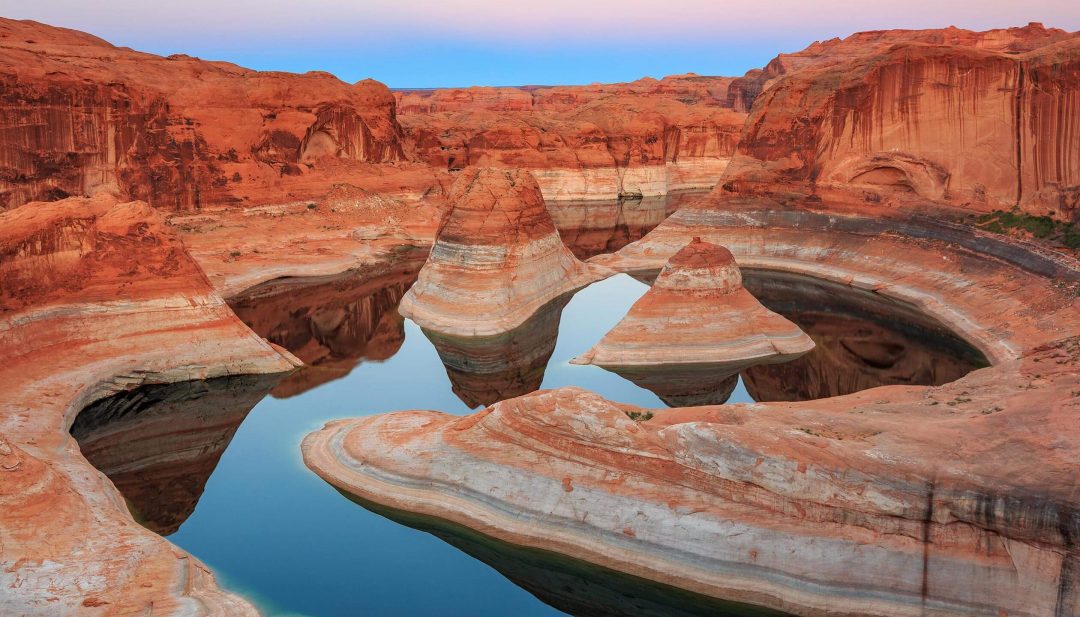 Arizona, Desert and Canyons – February 2018
Tour departed from Edmonton, home of Russell Park
Named for Reverend Robert Russell, who left his mark
Tour guide greeted all and boarded us without fuss
Driver showed a video on safety features of the bus
Tour passed through or bypassed communities along the trail
Bowden has Bowden Institute, a minimum security jail
Louise McKinney lived in Claresholm, one of the "Famous Five"
To Granum, Alberta's smallest incorporated town, tour did arrive
Tour stopped at Duty Free to buy snacks, smokes and drinks
Crossed into Montana, settled comfortably, hoping to catch forty winks
Montana is largest landlocked and fourth largest US state
Slightly larger than Japan, it joined the Union 8 Nov. 1889 – late?
First overnight was in Great Falls, home of CM Russel Museum
Travelled southward, along Interstate 15, longest Interstate in sum
Passed by Gates of the Mountains, discovered by Lewis and Clark Expedition
Magnificent 1,200 ft limestone walls line canyon, where Missouri River passes through Big Belt Mountains
Traversed Monida Pass into Idaho, nicknamed "Gem State"
Idaho produces 1/3 of USA's potato crop – percentage to date
Idaho had first radio show in US, called 'Party Line' with live calls
Crossed the Great Divide, then Snake River Canyon, into Twin Falls
Second overnight stop was unincorporated city of Jackpot, Nevada
Had a break in Wells, smallest city in Elko County, gained an hour tada!
Arrived in Ely, Nevada, former First Lady Pat Nixon's birthplace
Lunched at historic Nevada Hotel, Nevada's first fire-proof place
Played chicken coop game on bus, roosters crowed and hens did cluck
Travelled across Nevada Great Basin, towards Las Vegas to try our luck
Took Highway #6, travelled through White River Narrows – no roar
Tour was in the Mojave Desert, smallest of North America's four
In Las Vegas, our home for two nights, we had a driving tour of the Strip
Strip is called Las Vegas Boulevard, 27 miles in length was the trip
We enjoyed Freemont Street Experience amid glitter and sound
Watched featured animation on a canopy ninety feet above ground
Viewed Joshua trees, Yucca, Cholla, Davis Dam and Laughlin's Casino Row (Surprise!)
Crossed Colorado River, entered Arizona; 48th state to join Union, sixth in size
Onward to Oatman, town with the burros, nestled in the Black Mountains
Saw some fantastic mountain formations, including ice cream cone formation
Drove on Route 66, saw Ocotillo and Palo Verde trees – Arizona's state tree
Travelled to Lake Havasu City, saw London Bridge and English Village – all free
Bypassed Parker Dam, deepest dam in the world, 2/3 of depth below river bed
Left Mojave Desert, entered Sonoran Desert, hottest of the four, with soil of red
Visited Mission San Xavier Del Bac, called White Dove of the Desert – very ornate
Stayed three nights in Tucson, incorporated 1877, oldest incorporated city in Arizona State
On city tour of Tucson we saw military aircraft boneyard, Pima Air Museum and Dillinger home
We saw Saguaro cactus, Silk top yucca, Barrel cactus in bloom and other plants only desert known
Lunched at Old Tucson Studio, movie studio and theme park, saw a stunt show
Visited Arizona-Sonoran Desert Museum, saw humming bird nest with baby and birds flying low
Saw Prickly pear cactus, Cypress trees, rolling hills and mountain ranges – Main
Also saw Border Patrol/weather forecast balloon – Eye in the Sky – above the terrain
Travelled through Mule Tunnel, enroute to Bisbee, home of the queen Copper Mine
Historic and quaint Bisbee has State's only Smithsonian Museum of Mining – saw no sign
Went to Tombstone – 'Town Too Tough To Die' – had lunch and looked around
Saw gunfight at Ok Corral, a video, and visited Boothill Graveyard – no sounds
At the Orange Patch in Apache Junction tour sampled orange juice in a glass
Had city tour of Phoenix with knowledgeable guide First Class
Phoenix is capital and largest city in Arizona – called Valley of the Sun
Next day was shopping and Barleen's Opry Dinner and show – so much fun
Saw Montezuma Castle National Monument, well preserved cliff dwelling in the wall
Travelled through Oak Creek Canyon, lush gorges, colourful and craggy formations so tall
Saw bright red sedimentary rocks – Bell, Cathedral, Chimney, Steamboat, Snoopy and Castle
Courthouse Butte and Chapel of Holy Cross, arriving in town of Sedona, no hassle
Arizona has more mountain peaks than any other United States states
Overnighted in Tusayan Grand Canyon National Park, near the gate
Saw a DVD 'The Grand Canyon' at IMAX Theatre – very well done
Grand Canyon is world's most spectacular example of force of erosion
Walked along Canyon rim at Mather Point, drove to Bright Angel Lodge – fantastic view
Last stop was Desert View Watchtower, man-made structure completed in 1932
First view of Painted Desert here, 120 mi. long x 60 mi. wide area of geological forms
Known for its varied colours, typical gray and red bands across the landforms
Left Desert View, drove beside the Canyon, giving us views of the formation
Travelled through Navajo Indian Reservation, largest reservation in the Nation
Lake Powell is a reservoir on Colorado River, second largest lake in the US
Tour overnighted at Lake Powell Resort, rooms with views of the lake, Native facility with finesse
At Glen Canyon Dam, tour saw video 'Standing Tall' about Dam's birth
Saw Grand Staircase-Escalante National monument, multi-coloured cliffs and earth
Entered Zion National Park, saw Checkerboard Mesa, awesome with skiff of snow
Travelled through a tunnel, 1 mile long, 14 ft. high, no stopping, 15mph – slow
Zion includes mountains, canyons, rivers, monoliths, buttes, mesas, natural arches that all meet
Zion Canyon is main feature, gorge cut by Virgin River, walls tower 3,000 feet
Stone formations eroded from Navajo Sandstone resemble cathedrals and temples it's said
Rock formations range in colour from light purple to pink, orange to dark red
Kolob Canyon is minor section of Zion National Park's total mass
It contains finger-like red sandstone canyons at edge of Kolob Terrace
Travelled through Dixie National Forest, largest forest in Utah state
Elevation 9,861 ft. at Midway Summit, waited for ear pressure to abate
Saw bison herd, wild turkeys, Ponderosa Pine and Black Spruce trees, Pampas grass
Drove through Red Canyon with it's unique red hoodoos, close to the bypass
Entered Bryce Canyon National Park containing Bryce Amphitheatre formation
Three miles wide x 12 miles long, 800ft. deep, has red, yellow, brown colour selection
Forms like arches, natural bridges, walls and windows could be seen among the spires
Very artistic colourful display, Nature's gift to fill us with awe, as we admire
Iron Oxide gives red, yellow brown colour, manganese oxide lends lavender hue to the zone
Hoodoos in the Park are composed of soft sedimentary rock, capped by a harder stone
Overnighted at the BW Plus Ruby's Inn – Aspen Lodge – in Bryce Canyon City
Returned through Red Canyon to highway 89, leaving Bryce behind – pity!
Tour was now in Butch Cassidy country, he was the Robin Hood of the West
Bypassed Big Rock Candy Mountain, saw some Belted Galloway cattle, at rest
Saw Mount Nebo 11,928 ft. – highest peak in Wasatch Range, rising above Nephi
Viewed glimpses of Great Salt Lake, largest lake in Western US, – 1700 sq. mi. – not dry
In Salt Lake City we had a short talk and tour of Mormon Temple Square
Drove by State Capitol, left for Ogden, birthplace of Donny Osmond, tour's overnight lair
Travelled I-15 northward to Pocatello where tour made full circle from Arizona Sol
Forward to Dillon where tour took 'Snowbird Route' through Twin Bridges and Whitehall
Arrived in Helena, re-traced route to Holiday Inn, Great Falls, for last night on the road
Had Farewell Dinner, passenger entertainment, tour guide gift draw, left for our abode
Up early for long last day of the tour, it's Home going today
Crossed border into Canada, returned kilometres of first day
First drop-off was in Lethbridge where tour left youngest one
Drop-offs along the way until Edmonton where tour had begun
This tour is one of the most scenic Nagel has to offer
Action-packed, wonderful holiday, worth the dip into your coffer
Composed by: Vickie Murphy from Airdrie, Alberta.