Alaska Midnight Sun
18-DAY-MOTORCOACH TOUR
DAY 1 DEPARTURE: Calgary 7:00 am | Red Deer 9:30 am | Edmonton 12:30 pm
DAY 2 DEPARTURE: Grande Prairie 8:00 am | Dawson Creek 9:30 am
Explore North America's last northern frontier as you motorcoach through Alberta and British Columbia on your way to the Yukon and the "Land of the Midnight Sun" – Alaska.    You will travel nearly 5,000 miles over the scenic and historic highways of the north, much of it north of the 60th parallel.   Experience the natural wilderness from boreal forest to striking mountain vistas, untamed rivers to the frozen expanse of glaciers, with wildlife sightings in between.  Take in the colourful past of the Klondike Gold Rush and the modern society of today.  Enjoy it all – a sternwheeler river voyage, a mouthwatering salmon bake, the incredible views of Denali, the natural wonders of Portage Glacier, riding the vintage narrow-gauge railroad and more!
Guaranteed Date

18 days  | June 7, 2023 Sold Out  | July 1, 2023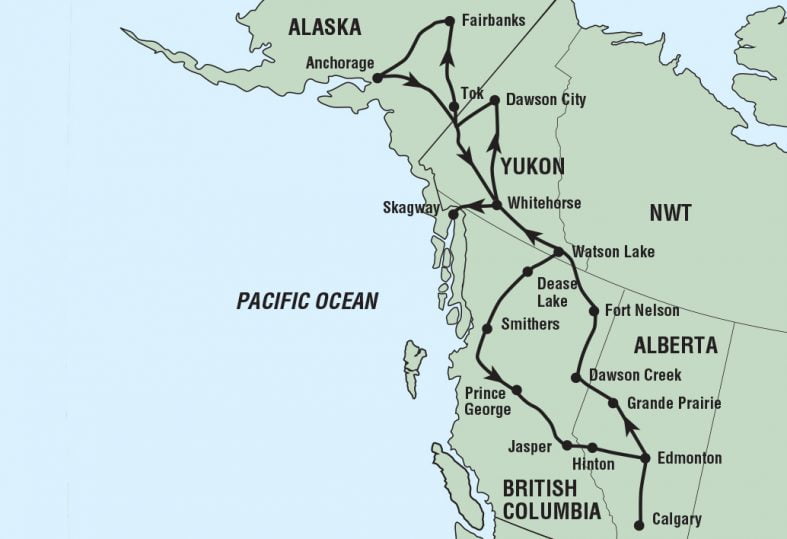 NOTES ON TRAVELLING "NORTH TO ALASKA"
Yukon and Alaska are still two of the last frontiers of pioneer-style life.  Some days we will have extended travel times due to rougher roads or distance between settlements.  All of our chosen hotels are comfortable but may not be up to the same standards expected in the south.   Bring your explorer's spirit and enjoy a fantastic tour of the north! 
SIGHTSEEING:  Will require occasional walking on rugged and uneven terrain and travellers should therefore be in reasonably good health.
First class transportation on an air-conditioned, washroom equipped motorcoach
Quality accommodation and tax
Services of an experienced Tour Director and Driver
Baggage handling, one average piece per person
Travel Bag
Traveller's Handbook
Admission to attractions and sightseeing as outlined in the itinerary
Travel the following highways in their entirety:  Alaska Highway, Klondike Highway, Top of the World Highway, Stewart-Cassiar Highway
Mile 0
Welcome Dinner
Liard Hot Springs
Signpost Forest
Miles Canyon
SS Klondike Sternwheeler
Diamond Tooth Gerties
Driving tour of Dawson City
Dredge #4 National Historic Site
Discovery Claim
Santa Claus House
Sternwheeler Riverboat Discovery Cruise
Athabascan Indian Village  
Pioneer Park
Alaska Salmon Bake & Show
Denali
Driving tour of Anchorage
Portage Glacier Cruise
Alaska Wild Berry Products
Musk Ox Farm
White Pass & Yukon Railroad
Mount Robson
Jasper National Park
Driving tour of Jasper
Farewell Dinner
City Tours as outlined in the itinerary
13 Meals Include: 5 Continental Breakfasts, 5 Lunches:  Muncho Lake, Moose Creek, Nugget City and 2 picnic box lunches, 3 Dinners: Welcome Dinner, Alaska Salmon Bake and  Farewell Dinner, 4 Picnic-style Breaks (cookies and juice)
 2023 Pricing
Cost per person | Prices in Canadian Dollars  | GST on Canadian portion | prices subject to change
Triple
$4,349.00
GST: $130.47
Twin
$4,999.00
GST: $149.97
Single
$6,849.00
GST: $205.47
Early Booking Discount
twin sharing per person.
$100.00
The Alaska Midnight Sun tour was the highlight of our holiday.  We were very happy with the tour as it exceeded our expectations.  Definitely learned so much
Click to see more
Nina is our fearless leader
She's the leader of this clan
Although she's few in numbers
She's the finest in the land
Click to see more